Well, it HAS been a while since I was last posting here! But I finally have something I'm allowed to show - some wedding-related sewing. Not THE wedding sewing, sorry - that'll have to wait till after the big day this weekend. But as of last Saturday it's all finished and packed off to the bridal party...which gave me a brief window of time to put together some dresses for my girl and me.
This was my original plan for my dress:
I still love it, and fully intend to make it some day, but just couldn't find any emerald lace that I liked. And I'm really not confident enough with dyeing (i.e. have never even attempted) to get around it in that way. Plus, I have to admit that given the acres and acres of chiffon that I've been sewing, the idea of something structured in a fabric that stayed put and did what it was told was mighty appealing! Since time was fast running out I went back through my 'dresses' Pinterest board and decided on this one:
...Mainly because of that two-tone origami-ish bow. Love. I'd just bought By Hand London's Elisalex dress and Charlotte skirt patterns, and thought that the Elisalotte combination would work nicely for this.Once I chopped off some length, that is. (Am I just short, or are the patterns drafted for the statuesque? Actually the answer to both is probably 'yes'...) I wasn't too interested in replicating the lines of the bodice above - I actually prefer the softer curves of the Elisalex anyway. A flying trip to Melbourne netted me some pretty sumptuous shot silk dupion in lavender and aubergine.And here tis!
I hadn't ever tried sewing with this fabric before - it was interesting! Almost like sewing flexible paper, or very thin sheets of aluminium foil. At first I was worried that it was a bit too light-weight for a structured dress like this. But it holds its shapes amazingly - in fact at times it was actually a bit like sculpting. And I think I would have struggled with a heavier fabric, say a delustred satin, when it came to doing the front bow; I think it would have become very bulky very quickly. As it is, the silk sits nice and flat against the main dress - and folds stay exactly where you put them!
I feel a bit like I'm channeling my inner Barbie, but hey, there's a time and place for that :) And it really feels wonderful on. Back view for
Nessa
below :) (Must watch my posture in future...) The lower scooped back is possibly my favourite feature of Elisalex.
From the inspiration picture, I worked out that there was one main bow which had the ties originating from the side seams at the waist. Then there's a second piece - imagine a capital T shape with a wide trunk that narrows diagonally each side to the base. The ends of the T's upper crossbar are also sewn into side seams, but underneath the main bow's ties. The "trunk" is folded up concertina-style and slipped through the loop that forms the knot of the main bow. Confusing? Yes. In the end, I didn't have enough fabric to do that "T" shape anyhow (only bought a metre of each colour) so had to adapt. I ended up instead with just the "trunk" - see below:
I folded this and slipped it through the knot and then positioned it where I wanted it. I swear, it really is like sculpting, it doesn't move unless you make it move! I did do a few hand stitches in a couple of places, just to be sure it would absolutely stay in place when worn all day.
I do wish I could have gotten some nicer lining (this is just bemsilk), but I kind of spent all my money on the main fabric....
This last shot gives a much better idea of the bodice fabric's colou. It looks a bit washed out in those outdoor photos. And honestly, could these two patterns go together any more beautifully?! (Pretty proud of that invisible zip work there, too.)
So that's me set for Saturday! But I'd also promised my girl a new dress, and she asked if I'd make her one. I said I would....right before she asked - apologetically - if it could be made of chiffon. (She may have overheard some chiffon-based ranting once or twice.) I stifled my urge to shriek "Dear God, no!!!" to the heavens, and we had us a look at Pinterest. Almost immediately, she found this:
Being twelve, she thought the colour was boring, so requested aqua instead. And she wanted the flowers going right around the neckline/yoke. I had a fossick through my patterns and found New Look 6785, which I'd never even used. I think I got it in one of those 3 for 1 sales once upon a time: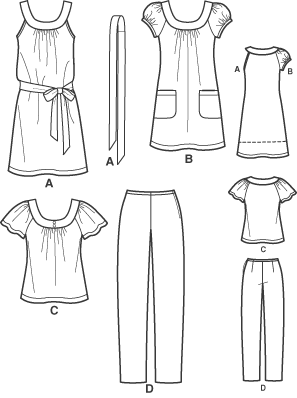 Look at View A! Done, and done. It really was just a matter of making sure the yoke wasn't gapey - I had to take it up at the shoulders about 1", and pinch 2cm out of the front fold. I made the chiffon layer of the front and back as wide as the fabric itself (115cm) and cut it out the length of View B. She's pretty happy with it!
I wasn't much looking forward to making the fabric flowers - I'm really, really tired! - but then I remembered that Kaisercraft, who I work for, sells lengths of these chiffon ribbon roses:
Yay, and hooray! Happy girl, and happy me. And I can't tell you how wonderful it was to have a quick project after the past four months - this was Saturday evening and Sunday morning before church. Win!
Now, assuming there's no eleventh hour problem with the wedding party dresses (rationally I know there won't be, but I don't think I'll fully relax until they've all made it down the aisle), I can put the machine away and reclaim my dining table....
I plan to do the Wedding Post on Sunday. If I'm not asleep, that is...
Have a wonderful week :)
Danielle oxo